The latest Financial Peace class has concluded, but stay tuned for the next session!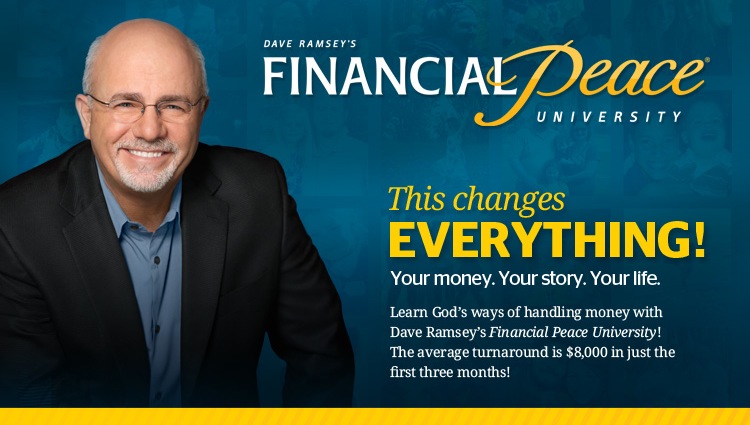 Financial Peace University (FPU) is a nine-week class on money taught by America's most trusted financial guru, Dave Ramsey. We will walk you through the basics of budgeting, dumping debt, planning for the future, and much more.
WHO SHOULD ATTEND
Everyone can benefit from this program, regardless of age (whether you are 21 or 61), income (whether you make $12,000 or $100,000 per year) and marital status. Everyone benefits from FPU!
WHAT YOU'LL LEARN
In 9 lessons, you'll learn to take control of your money, invest for the future, and give like never before! The lessons teach you:
How to make a budget (and why you need one),
How to pay off your debts,
How to save for your retirement and kids' college,
What types of insurance you need, and what types to avoid,
What you need to know about buying and selling a home, and
How to spend, save, give, and enjoy your money.
Check out the full class schedule, along with a preview of the lessons.
Don't be intimidated! You will learn a lot, but you won't be overwhelmed. You will be challenged, but you won't be scolded. You will work hard, but this class can give you the tools you need to control your money, instead of letting it control you.
REGISTER NOW
Financial Peace class is running right now 
Where: Celebration International
When: TBA
Cost: $95 per family, which includes all materials and a lifetime membership
Contact: info@celebrationalinternational.org