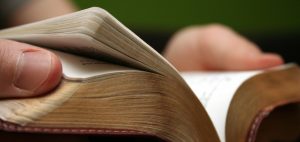 At Celebration, we believe the Bible to be the holy guide for what is profitable in all godliness (2 Timothy 3:16f). Why not consider making this the year to read through the Bible faithfully every day? Just two readings in the morning, and two in the evening. Let's read through the Bible together this year, day by day.
The daily reading plan below allows you to read through the entire Bible in one year. The schedule provides a variety of Scripture each day, and is taken from Robert Murray M'Cheyne's Daily Bible Readings. To receive daily email reminders or track your progress online, an interactive version of this plan is available on YouVersion.com. Crossway Publishing also offers several formats, including a printer-friendly version to carry with you.
Get started by choosing a month, and using the daily readings provided!