Family members mourn victims of heroin overdoses at Fredericksburg meeting (hosted by Celebration Church)
ADDICTIONBREAKING THE GRIP OF DRUGS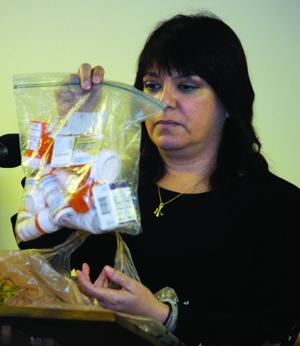 David Rose struggled to transition out of the military, but in 2013, he seemed hopeful about the future. He was kicking a drug habit, settling into a new job and getting married. But 12 days after his wedding, Rose died of a heroin overdose.
His in-laws came to a Sunday evening meeting of the Fredericksburg Drug Addiction Task Force to talk about Rose and his death. The meeting was held at First Christian Church in Fredericksburg.
Holding a large clear plastic storage bag filled with prescription bottles, Cathy Hoskins said that Rose was injured while stationed in Iraq with the U.S. Marine Corps.
He left the military on a medical discharge, with some awards for bravery and a lot of prescriptions for pain medications, Hoskins said. She believes that medicine launched Rose on a path that led to a heroin addiction and, ultimately, his death.
"I'm not embarrassed about his death," Hoskins said. "I'm sad and I miss him, but I'm not embarrassed because his story is the story of so many people."
Rose was one of 213 people to die of heroin overdoses in Virginia in 2013. The number of heroin deaths has been rising in the state and across the nation for the past few years.
"It's not people living in a ditch," Hoskins said. "It's everyday people, and we need to make more people aware that this is happening."
Politicians, police officers and treatment specialists have struggled to stem the tide of overdose deaths.
The local task force hopes to prevent more deaths by offering support for families and tackling a lack of treatment options for addicts.
The task force consists of parents, friends and family members who lost loved ones to heroin and other drugs. It was formed by the Rev. Richard Cizik Sr. after his oldest son died from a heroin overdose in 2013.
Sunday evening, the task force held a town hall meeting for people to share their stories. About 20 people attended the meeting, which was recorded for a CBS show on the faith community's reaction to drug addiction.
During the town hall meeting, the Rev. Toby Larson said that for more than 10 years, "I don't think I said the word 'drugs' from the pulpit in 10 years. Shame on me."
Larson didn't know much about heroin until he helped the Cizik family as they struggled with Richie's addiction. Larson, pastor of Celebration Anglican Church, prayed with Richie while he was in rehab.
And he mourned with the Ciziks when Richie died shortly after returning home from rehab.
Cizik belongs to Celebration Anglican, which meets at First Christian Church on Washington Avenue.
At a worship service after the town hall meeting, Larson tackled the issue of addiction and overdose in a sermon.
"Addiction is not a private sin," he said. "It seems like one, but it affects all of us. We all partake in the struggle together."
The service ended with a candlelight vigil. Parents, in-laws, siblings and friends stood in front of the church, each lighting a small white votive candle in the honor of someone who died of an overdose—or who is still struggling with a drug addiction.
As the row of flickering flames cast a pale glow on the participants, they cried and hugged each other while a worship song, "Come as You Are," played over the speakers:
So lay down your burdens Lay down your shame All who are broken Lift up your face Oh wanderer come home You're not too far So lay down your hurt Lay down your heart Come as you are.
You were Invited to join us Feb. 22
What
You are invited to experience and be a part of a CBS Television filming.
A CBS Television Network crew for its "CBS Religion and Culture Series" will be at Celebration Anglican Church, Fredericksburg, to film part of a 30 minute special to be aired on CBS affiliates nationwide in April. This investigative piece will look into how the faith community is responding to the rising problem of drug addiction among young people in this country.
Why Come
This is a good opportunity to gather with a growing group of others who care about this challenge, some of whom whose lives and families have been deeply affected.
*Meet the members of the Fredericksburg Drug Addiction Task Force forming to help address this growing epidemic.  The Rev. Dr. Richard Cizik, who lost his 23 year old son, Richie, to an accidental heroin overdose, will lead this Town Hall Meeting, 4-5pm.  Participants will be invited to share their stories of loss, the triumph of love, and the role of the church in the process (RSVP — info@celebrationchurchva.org).
*Message by The Rev. Toby Larson on The Unstoppable Love of Friends, at 5:15 pm followed by a celebration of Holy Communion, for those who wish to participate.
*Join others in saying a prayer for our community and its response to this local and national epidemic. Over a dozen young people have died in our area from drug overdoses in the past year alone.
When
    Town Hall Meeting 4-5pm.  (RSVP — info@celebrationchurchva.org)
    Worship Service 5:15-6:30pm.
Where
First Christian Church, 1501 Washington Ave., Fredericksburg, VA 22407
Religion & Ethics Newsweekly
See also online at PBS.org the report, "Heroin and the Faith Community," aired nationally on Religion and Ethics Newsweekly. PBS filmed in Fredericksburg and at Celebration Church.
***RSVP: info@celebrationchurchva.org***
Commentary: Faith leaders must help fight addiction
The Fredericksburg Task Force on Drug Addiction will host a town hall meeting tomorrow from 4–5 p.m. in conjunction with a Service of Remembrance, including a candle lighting by Celebration Church at 5 p.m. for those who have died from drug overdoses. Please join us at First Christian Church, 1501 Washington Ave., Fredericksburg.
Posted: 
Saturday, February 21, 2015 12:00 am, THE FREE LANCE-STAR
THE DISTRAUGHT MOM said, "I called the youth pastor at our church and asked him for help or advice since my son is using drugs." "And?" I asked inquiringly. "He had no advice."
"Really? No advice? Surely he referred you to a drug counselor?"
"No, that's why I'm calling," she said. "We're a large Baptist church south of Washington, with more than a thousand members, and you'd think this had come up before." Her voice revealed a sense of betrayal.
The truth is, most local churches in America, big or small, are as woefully unprepared to handle this problem as most other institutions of society. And as psychotherapist Anne Wilson Schaef put it, our society itself shows all the signs of classic addiction. Instead of dealing with a problem and seeking healing, our society denies it or calls it "sin," and turns its victims into perpetrators who should be punished rather than treated for a disease.
When a young person dies from a drug overdose, it's as if an IED exploded, wounding and maiming family and friends for life. You never get over it. You just learn to live with it.
We need to change our way of thinking about addiction and the war on drugs. According to the Drug Enforcement Agency, in the 1990s smaller players in the drug world were trying to break the market domination of crack and powder cocaine, so they introduced a user-friendly version of heroin. It was powerful and cheap, and it could be snorted.
"Fueled by small-town boredom and curiosity," according to an ABC News story about Westminster, Md., "hundreds were introduced and many became addicted. The users defied stereotypes: They were football players, cheerleaders and honor students—the 'good kids' with 'good parents' who believed they'd done everything right."
If the families of Fredericksburg don't think it can happen to them, let me warn you that as a parent who lost a 23-year-old son to an overdose, it can happen to anyone. To think it can't happen to you is itself a kind of addiction to your own way of thinking.
Ask any pastor if there are addicts in his or her congregation. The answer is usually a muffled denial. Never mind that drugs and alcohol are just the most visible forms of addiction. We all become co-dependents in this denial.
It's been said that we're blind to our own problems, and one of the Church's blind spots is its own "absolute exceptionalism." It won't admit the elephant in the room. The problem of addiction is surely as present in the church as outside. But a kind of superiority complex rules. Not here. Not us.
This way of thinking will remain until a new reality forces it out. That new reality is that drug addiction—legal and illegal—is killing our own, especially the young.
At least a dozen young people have died from drug overdoses locally in the past year. These are not the "usual suspects," or those in perpetual trouble with the law. They're wonderful, young kids who made a mistake—a fatal mistake.
Unlike alcoholism, which provides many prior warnings with opportunities to change, one bad choice to use heroin can lead to death.
Our entire community—civic leaders, clergy, educators and law enforcement—needs to respond to this epidemic. That begins by acknowledging it.
The national numbers are hard to deny. Drug use currently affects 7 percent of the population, with youth now exhibiting a higher incidence of drug use than adults. Approximately 38,900 deaths occur annually from drug overdoses.
The Free Lance–Star has given front-page coverage to local arrests for heroin sale and usage. There are hardworking professionals here doing drug counseling and prevention.
We're simply urging the local faith community to lend its moral support to these efforts. That's what led to the creation of the Fredericksburg Task Force on Drug Addiction to help push for solutions, both locally and in the General Assembly. A number of bills have already passed the House of Delegates, including one that increases the likelihood of criminal charges for death-related heroin sales.
A lot can be done, otherwise. At least three factors impact the likelihood of substance abuse among youth: peer use, parental use and self-esteem.
Personally, I don't think the "Just Say No" campaign, initiated decades ago by first lady Nancy Reagan, is what works. Times have changed, as has the threat, and so must educational campaigns.
Peer programs are based on "peer-cluster theory" that adolescents of families who advocate an anti-drug message tend to gravitate toward peers who share similar values. Moreover, peer group pressure is a greater predictor than the influence of external pressures such as that of "pushers."
"Social inoculation theory" suggests that programs should focus on building self-esteem and teaching social refusal skills.
Finally, the perceived social stigma associated with seeking substance-abuse treatment and the desire to remain anonymous—not to mention the accompanying financial burden—are big factors why women, especially in rural areas, do not seek treatment.
Young people share many of the same concerns. They avoid exposure at all costs. Hide it from their parents.
Our churches should be at the forefront of a campaign that says clearly and unequivocally: There is no shame. Not in having an addiction. Not in seeking help. But for most white churchgoers (conservative and liberal), let's face it—drug abuse is not even on the radar screen. That's what happens somewhere else. To someone else. On the other side of town.
No more. The real-life consequence of a failed 40-year drug war is a kind of pain that is unimaginable until it happens to you. Pray that it doesn't.
The Rev. Richard Cizik is president of the New Evangelical Partnership for the Common Good. Richard "Richie" Cizik Jr., 23, was a writing student at Germanna Community College and aspired to follow in his Dad's footsteps.