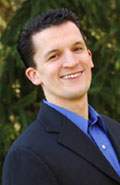 Alex Krutov visited Celebration in September 2012, leading us in worship through the sharing of his life's story. In his book, Infinitely More, Alex tells how he was abandoned by his mother in a St. Petersburg dumpster when he was only three days old and how he should not have survived. God, however, had something else in mind.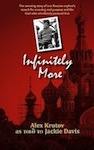 Raised in the harsh Russian orphanage system, Alex's life was one of hopelessness and despair until the arrival of Christian missionaries from the West when the Soviet Union collapsed. Infinitely More is the inspiring true story of a young man who would not give up, and the God who relentlessly pursued him. Jesus said, "I will not leave you as orphans; I will come to you."
Alex's story is of God's coming to him, and the hope God offers to all of us. Alex Krutov is the co-founder of The Harbor, a ministry to emancipated orphans in Russia. A graduate of Franklin University in Ohio, he divides his time between the United States and Russia.