Sunday begins the Christmas countdown: four weeks, three weeks, two weeks, one week—Christmas! We call this countdown, Advent.
It's our special time of gift wrapping, wrapping our minds around the miracle gift of when the creator of the universe invaded the space-time continuum and came to earth to be born in a stable in Bethlehem.
During this countdown we will celebrate many things—but some things we will not celebrate.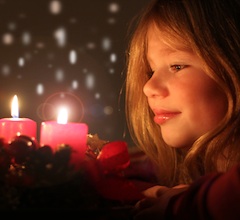 We will not celebrate, for instance, that a religious genius came to our planet to tell us what he thinks is right and wrong, share a few insights about the meaning of life, and give us a few suggestions about what the other side of the grave will be like. We will not celebrate that someone special came to point us to the way. These ideas, as nice as they are, fall short of what Christians wrap their minds around and celebrate.
What we do celebrate is this: the very God who made heaven and earth came down to be the way, to provide us a path to fellowship with God.
St. Augustine once looked at the various pagan religions and philosophies of his day. He said that surprisingly he could find several parallels to some claims of Christianity.
He was able, for example, to find parallels outside of Christianity to things like the doctrines of the God of love and the Golden Rule. He found references to the bitter universality of human fallenness and sin.
There was one truth claim, however, for which Augustine could find no parallel outside of Christianity—the truth of the incarnation.
So, while some religions advance claims such as God appearing as a man or coming into a man, only Christianity claims more. The faith asserts that God actually became a man, and took upon himself human flesh to accomplish our salvation.
This Sunday begins our special season to think about this most extraordinary event in human history, the great mystery of our faith—God manifested in the flesh.
Now that's something to celebrate!