Toby Larson
Pastor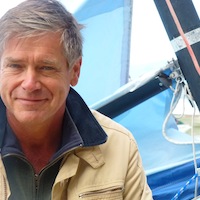 Toby is Celebration's teaching pastor. His message is simple: "Love God, Love Life." He labors to help make sense of the world and the gospel to the church — and make sense of the church and the gospel to the world.
He delights in highlighting God's faithfulness through time. "God never changes," he says, "but for his people journeying through biblical-redemptive history God's self-revelation gets richer and richer."
For sport he loves tennis as a United States Professional Tennis Association Elite Pro. He was an avid ski racer in the Pacific Northwest, he loves sailing, waterskiing, and challenging mountains to climb. He also loves China, and exceptional art.
Toby is an inspirational communicator and brings a rich background of skills to Celebration's leadership.
Alma Mater
Gordon-Conwell Theological Seminary, Th.M. (1998, Magna Cum Laude), Th.M. thesis on the use of Lev. 24:16 in 2 Tim. 2:19d cited by I. Howard Marshall, Professor of New Testament Exegesis, University of Aberdeen, in The Pastoral Epistles, The International Critical Commentary (T&T Clark: Edinburgh, 1999), p. 742, 758ff.
Gordon-Conwell Theological Seminary, M.Div.
Gonzaga University, B.A., Political Science
University of London, London, England
Beijing International Studies University, Beijing China