Toby Larson
Founder & CEO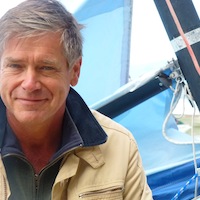 Toby is the Founder & Chief Executive Officer of Celebration International. "Love God, Love Life" sums up how he lives and how he believes God has called us to live.
"Life changes," he says, "but God never does. Looking back through redemptive history helps me understand today and how to look ahead. God's self-revelation has implications for every part of our lives — where we are, what we do,  where we aim to go and where we put our hope."
Toby's professional presence has been nurtured and capitalized on by his early training with NBC News & Entertainment shows such as Today, Nightly News, Saturday Night Live, and The David Letterman Show; his on-camera work with a Northern California entertainment company; leading Christian video and radio production for a large non-profit in Charlotte, NC; writing, teaching and on-air talent in China; and his daily radio devotionals aired in Virginia.
Toby loves tennis and is a United States Professional Tennis Association Elite Pro. He was an avid ski racer in the Pacific Northwest, he loves to sail, waterski, and take great hikes. He also loves China, and exceptional art.
Toby is an inspirational communicator and brings a rich background of skills to Celebration's leadership.
Alma Mater
Gordon-Conwell Theological Seminary, Th.M. (1998, Magna Cum Laude), Th.M. thesis on the use of Lev. 24:16 in 2 Tim. 2:19d cited by I. Howard Marshall, Professor of New Testament Exegesis, University of Aberdeen, in The Pastoral Epistles, The International Critical Commentary (T&T Clark: Edinburgh, 1999), p. 742, 758ff.
Gordon-Conwell Theological Seminary, M.Div.
Gonzaga University, B.A., Political Science
University of London, London, England
Beijing International Studies University, Beijing China